Now that it is mid-November here in the Pacific Northwest we are starting to have some truly cold days. Last weekend we had a hard freeze so I knew that would be a good time to test this fire starter and tinder that Lightning Strike Fire Starter sent us as a tester.
The package calls it the "World's Best Survival Fire Starter" and that it sparks at temperatures of up to 5,000 degrees. Me and my 10-year-old son gave it a try. He put the kindling on the fire and I let him open the package and figure out how it worked. I figure if a 10-year-old kid can do it then the rest of us can too.
Lightning Strike sent is a plastic bag of two of their Napalm gel tinder pads and we started out with those.
We peeled the gel pads apart and they came into two pieces easily. So even though it's one pad, you can easily get two firestarters from each pad. They caught fire so easily that I feel if you had good conditions and you had dry tinder you could cut the pads in half or even in quarters and get your fire started with plenty left over for another fire.
My son read the instructions and set up the striker. I got my camera ready and hovered over his shoulder, unprepared for what would happen next. He ran the striker down the ferrous rod and it sparked and caught the tinder on the first try! I happened to click the camera at just the right time to capture the spark. We were both a little surprised that it started on the first try. It really was that easy! We let it burn for a couple minutes before we put it into our fire. These Napalm tinders aren't listed on their website, but are available for $12 by phone from the shop by calling 541-439-5155. If you order, ask for them because they really worked great.
Inside the "handle" is a water-proof container that holds the tinder. It comes with 12 tinder pads already loaded in, and refills are available for $12 for 12 tinder pads. A bungee cord holds the components together and it's palm-sized, or about the size of a mini flashlight, when it's all together. The cord keeps the tinder cap from being lost. There's a little string-like thing that allows you to easily pull out the tinder pad.
We tried the tinder pads that it comes with and we had similar good success with that. It didn't catch fire the first time like the Napalm did, but it only took my son 4 or 5 strikes before it caught. I wasn't as successful getting a photo of that one as it sparked. In this photo, you can see that one little pad which was not much bigger than a dime opened up into a lot of fluffy material that burned well.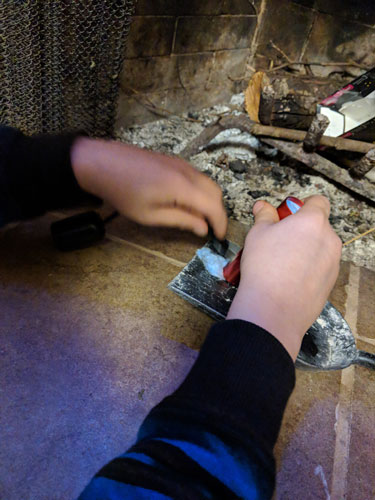 The striker and attached tinder kit sells from their website for $60. That may seem like a lot considering that you can go to any camping store and get one of those keychain strikers for a few bucks. The thing that makes this one better is its sturdy construction. The spark is also protected by the machined aluminum case, so it's easier to strike and keep your tinder lit if its windy or rainy. It holds tinder in its own case, and by my own experience I testify that the tinder caught the spark very well. The case also helps to concentrate the spark at the right spot. If you ran out of the tinder that this comes with, the tinder case would work very well to hold some petroleum-soaked cotton balls (which we wrote about and tested different methods of making in a previous post).
Also, when you buy two firestarters at retail price, Lightning Strike will throw in a free Lightning Strike Tinder Kit (a $12 value) or a belt pouch! And if this is the only fire starter you buy, spending $60 isn't so bad. I recommend getting one for your home and one for each car you have in your household. It's peace of mind that's well worth the price. It would be a welcome stocking stuffer for anyone.
Now that I've used it and see how well it works, I'm going to keep mine handy and order a backup of the tinder refills for $12. I'm very happy with this firestarter!
Since we had the fire going, we made some pieces of char cloth, and that's what I'll talk about next week.
Comments on this article
comments